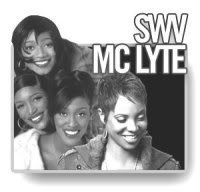 InJoy Enterprises and Synchronized Rhythm
are teaming up to present a one of a kind Winter Party Weekend featuring live performances from SWV and MC Lyte and you're invited!!!! It's gonna be a weekend you'll be talking about all year long.
Departing by bus at 125th & Adam Clayton Powell Jr Blvd at 6pm (SHARP!) on February 26th and returning to the city on Sunday, February 28th.
Here's some of what's included
* Round Trip Motorcoach Transportation
* Two Night Hotel Accommodations at the Hilton Hotel & Conference Center in Scranton, PA
* All You Can Eat Saturday Breakfast and Sunday Brunch
* All You Can Eat Dinners
* Outlet Shopping
* Transfers for Gaming at Mohegan Sun Casino at Pocono Downs
* Ski Equipment Rentals
* Friday Night Pajama Party
* Saturday Karaoke Club Party
* "Braggin Rights" Games R Us competition including Spades, Bid Whist, Backgammon, Uno and more!
* Splash Party at the Hotel Pool
* SATURDAY NIGHT LIVE PERFORMANCE FROM SWV AND MC LYTE!!!!
* Saturday Night Concert After Party
* 14 Hours of Open Bar throughout the weekend!!!
* ...and much more!!!! Check the event flier @ http://i221.photobucket.com/albums/dd224/SynchRhythm/WinterPartyWeekend.jpg
The price per person for this memorable weekend is:
* $360.00 per person Double Occupancy
* $350.00 per person Triple Occupancy
* $335.00 per person Quad Occupancy
Cash, Checks, Money Orders & Credit Cards are accepted
Initial Deposit of $75.00 is requested by Nov. 5 to reserve your space with additional deposits of $75.00 due on Dec. 5th and Jan. 5th, 2010. The Final Balance is due by Feb. 5th, 2010.
PAYMENT INFORMATION
Payments Accepted via PAYPAL @
http://archive.constantcontact.com/fs035/1101029106699/archive/1102779769245.html
OR
Check or Money Order payable to INJOY Entertainment, LLC. Checks should be sent to 244 Fifth Avenue, Ste. 2489, New York, NY 10001 (reference: Winter Party Weekend 2010)
**NOTE: You are welcome to give your checks, money orders or cash in person to Marko & Melissa Nobles (PAYABLE TO INJOY ENTERPRISES LLC) OR Synchronized Rhythm (PAYABLE TO CHANTE RAMSEY OR D. CAPRICE TODMANN) by the due dates**
Don't miss out on the fun!!! Reserve your space now!!! If you need more information or wish to make reservations for triple or quad occupancy you can email Marko@Injoyenterprises.com or SynchRhythm@gmail.com. For any specific questions call Marko at 917-309-2092.
Make sure you're with us for the Winter Party Weekend 2010!!!!
InJoy Enterprises @
http://www.injoyenterprises.com/
Synchronized Rhythm @
http://www.myspace.com/synchronizedrhythm