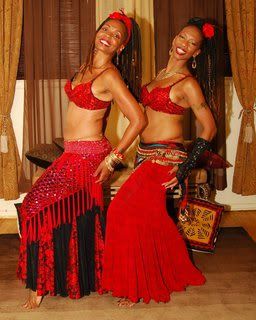 Photo Credit: Rudy Collins
SR's Chante shimmied, dropped, popped and locked with the ladies of the Sistah Soul Stars Belly Dance fitness workshop this past weekend. We extensively worked our core muscles under the tutelage of instructors, N'tirzah Ammann al Rephaim & Deena Collins. During the class, the participants got a brief lesson on the history of this style of dance and a healthy dose of yoga-meets-cardio that laid the foundation. For this workshop, we were introduced to a cabaret style of belly dance which seamlessly incorporates varied traditional movements with western forms of dance (e.g., ballet). Three hours clearly wasn't enough for us to savor all of the palpable energy that radiated from more than a dozen women of all shapes, ages, careers and experiences!!
What's so great about this dance series is that we will be introduced to various style of bellydance from guest instructors, clever and fun routines, and a class like this gives one the courage to release your inner confidence that you carry out with you long after the class has ended. This workshop was the first of many future classes by this extraordinary team. Belly dancing is not only a great workout but it's also a wonderful way to learn about a other cultures.