French artist, Lili Roquelin, showcased her soothing folk music to the Midtown crowd last night. SR's Chante was in the building to lend her support and to take in her first time seeing Lili perform.

This humble yet comical artist started out with two members in the audience and at the end of her set there was a small crowd gathered curious as to who is Ms. Lili Roquelin. Some signed up on her mailing list while others eagerly purchased her cds without hesitation!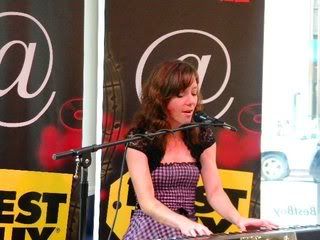 With her voice she reminded us why her music is loved and it doesn't hurt to be backed by her "band" Kelly and Steve otherwise known as her keyboard and trusty beat machine, respectively. She affectionately named them after an artist from her favorite band and a fellow musician from her previously rock band (awwww).

She performed selections from her debut EP and her latest CD "Will You Hate the Rest of the World or Will you Renew your Life?". And then she stumped the crowd by asking them to "Name That French Tune" a song that she performed and the prize was a free cd (Hint: it was the soundtrack from a 1992 Tim Burton flick).

If the music wasn't enough, after the show she greeted those who stayed for the set, introduced everyone to one another and took group pics with the audience.

She has a sincere, warm and loving spirit that is so rare these days. Artists like theses are encouraging to see.

Visit Lili at www.liliroquelin.com.