On the first day of summer, the annual day-long music fest was filling every hood and borough with pulsating music that spoke to everyone's rhythmic soul! The Synch Ladies enjoyed one part of this fest in downtown Brooklyn on the steps of the municipal court house.

We were fortunate to catch three awesome artists!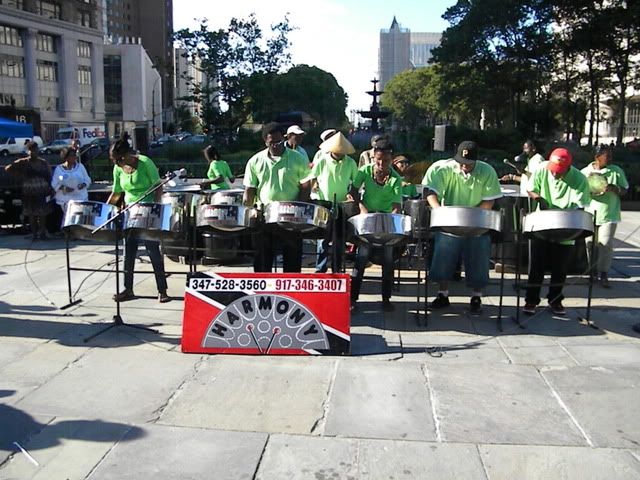 First up was Harmony Music, a steel pan band from Brooklyn, who brought their A game. Performing a menagerie of covers including one by Micheal Jackson (a fitting tribute to the legend who left this earth one year ago). There was one onlooker who had an extra good time during this band's set...lol (she had some serious whining skill!). Be sure to look out for this band performing at local festivities this summer including the Labor Day Parade on Eastern Parkway. For more info, visit www.panonthenet.com/Harmony/page_one.html




Next artist up was the illustrious, Kimberly Nichole, who made everyone stop and stare in disbelief of this petite lady having a voice so powerful! She's not called the "..the puffy-haired tower of power... for nothing. She performed a few songs from her current project, Yellow Brick Journey Reloaded, as well as her infamous cover, Crazy, by Gnarls Barkley. The crowd was oohing and awww sookie'ing throughout her set. It was a beautiful thang! For more info on this artist, visit www.kimberlynichole.com




Last but certaintly not least, Erick Arc Elliott closed the downtown Brooklyn locale with a blend of tracks from his current project, Noir is Black, and a bit of freestyle. This was a special treat for the Synch Ladies as it was our first time seeing Erick performing live. We've been rocking his mix tape since January and SR's Chante has witnessed his growth from childhood into to this young man that has a voice that cannot be denied, overlooked or dismissed! The highlight of his performance besides his charismatic charm and grace to withstand the elements (it was HOT out there! Whew), was his spontaneity. Even with the drunken hecklers, the ever growing crowd and the draining heat, he brought old school freestyle to the cipher making those who forgot why they loved hip hop and introducing those to the true essence of hip hop as an art not the commercialized state that it has come to. Be sure to visit www.theloveinus.com for his upcoming shows and to download his current project.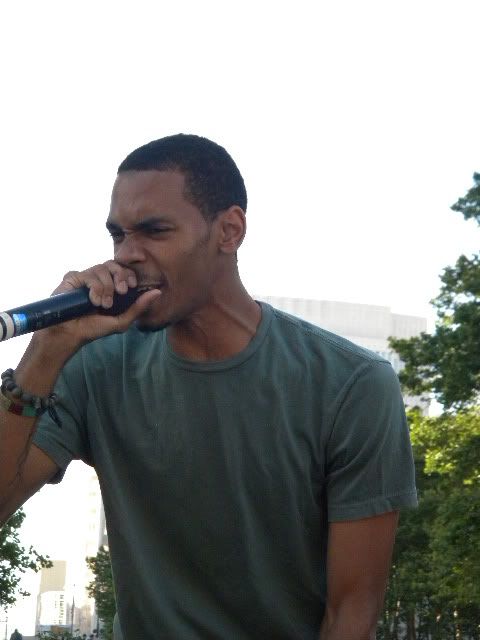 What an incredible way to welcome summer....we got a lot of cultural arts ground to cover this summer...ohhhh mmmmm geeeeee!

For more info about Make Music NY and how artists can sign up to be a part of this series, visit makemusicny.org