Because we as women have a month all to ourselves, we thought it appropriate that we have a month in appreciation for me and thus the ladies of Synchronized Rhythm made it so (because we gangsta like that!) with our monthly music & spoken word event, THE SYNCH CHRONICLES this past Saturday at The Shrine with a selection of beautiful men! All to often we forget to praise men that come hard with their creative prowess, entrepreneurial tenacity and loving spirit in this world and it was the least we could do to honor them; and must remember to continue to do so!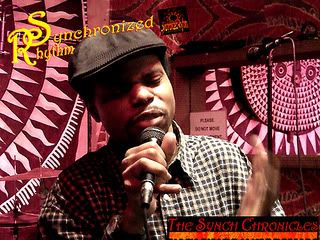 With a packed audience, beautiful man number #1…HONEST ABE stepped to the mic and spat rhythmic verses encouraging poets to wield their pen, and speak their minds in fervor. All we can say is…his spirit was felt throughout the crowd and it made a great opener for this HE-ROISM celebration!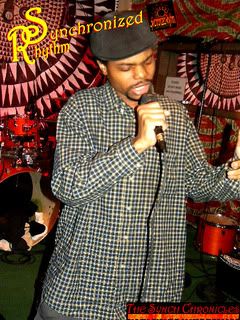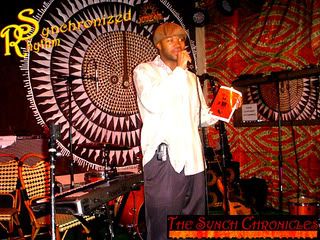 Beautiful man #2…M.C., KING DHAKIR, graced us with his presence in commemoration of the authorship of his new book, "I Hate My Job." Aside from reading a poignant excerpt from his book, he cleverly dissected the title giving it a more in-depth description of its meaning and garnered more fans to purchase a copy. Powerful, to say the least!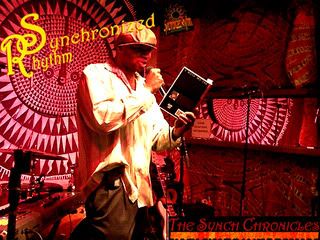 Beautiful man #3 and #4...and in anticipation of the lyrical genius that is this dynamic hip hop performance duo…THE 5TH L along with their talented band gave the crowd another facet of why we love men in the first place! With their comedic sincerity mixed with a splash of realism; it's no wonder why their creative style of hip hop is requested across the states! The onstage levity, improvisation, and killer rhymes were evident of why they are a force to be reckoned with and lawd knows we know chile!




Lastly—but certainly not least, good friend, vocalist, songwriter and dancer, N'TIRZAH, gave a heartfelt rendition of her appreciation to men in her poem entitled, "I'll Always Love You Black Man." She moved the crowd and spoke truth, wisdom and love for all women who honor, respect and cherish the men in our lives!! And that we should on a constant basis!




We are greatly appreciative of HONEST ABE, KING DHAKIR and THE 5TH L for giving just cause and meaning to why we love our men! Their charisma, passion and style…wow…is there a wonder why we don't celebrate our men more often?! Food for thought…