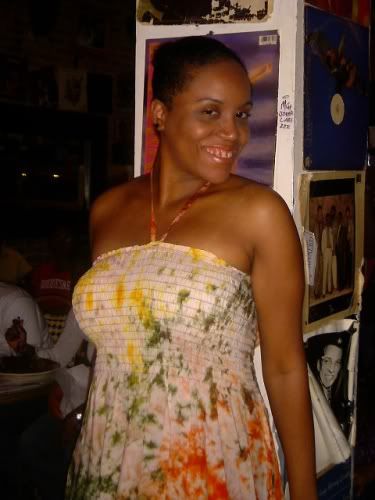 Part One of '
The Synch Chronicles: Celebrating Virgo'
at The Shrine, August 21
st
, had to be one of the most extraordinary nights for the Synch Ladies; featuring Seoul Diva,
HEATHER PARK
; who electrified the stage in a birthday celebration for co-founder of
Synchronized Rhythm
,
CHANTE RAMSEY
.
Representing beauty, strength and a genuine spirit of humbleness,

HEATHER

took the stage and oozed with sexiness in her love ballads that were heavily laced with a reggae influence. In the mist of her set,

HEATHER

shared apart of her personal upbringing of turmoil in a song about forgiveness! Forgiveness from her parents for the tense relationship they shared throughout her quest to strive for a music career! We are sure there were some audience members, as well as readers (
that's you
) who would concur with this emotion as the struggle continues in pursuit of dreams without the support of family. She also belted out a rendition of "
TELL ME
" by Groove Theory and rocked the Shrine beyond belief. As we wished and hoped that there was more of

HEATHER

to spare, we could not have thanked her enough for blessing us and are looking forward to seeing her perform at her CD release party at Crash Mansion, September 28
th
!
As the evening came to a close and with so much time to spare, the crowd mingled, signed the birthday girl's card, and partook in libations, but it wasn't quite over just yet! SR's
CAPRICE
had a little something under her sleeve, to make the birthday girl's night a memorable one! With the audience fully focused on the Synch Ladies,

CAPRICE

had the audience belt out a Happy Birthday song (
Stevie Wonder style
) before she was given her surpreeese! With the assistance of good friend, Pastry Chef Danielle Moore of "
Annie Mae's Cheesecakes & Moore

,
"

CHANTE

was presented with a delicious chocolate cake adorned with a white/lilac cream frosting that was simply to die for! But, my dear people, this was no ordinary cake! On top was a replica of a Nikon camera, which displayed the immeasurable love

CHANTE

has for photography. As Pastry Chef Danielle exclaimed her appreciation and love (
almost sending us both into a whirpool of emotions - SR's Caprice is gangsta and held her own-LOL
), the tears flowed uncontrollably down

CHANTE's

cheeks and it was evident of the love she was showered with throughout the venue as we came together (
strangers as well as friends
) to celebrate such a momentous milestone of her 35 years on this earth!!! A woman with such a fun loving spirit who is always filled with such vigour, made it evident that SR's

CAPRICE

had done her job in giving her sister-friend a moment in her life that she'd never forget!
Judging from the slideshow, you can more than see how the night went on (
go ahead, take a look…GO
)! And the celebration continues at Part 2 of "
The Synch Chronicles:
Celebrating Virg
o
" for
CAPRICE 'STARBRITE' TODMANN
; saluting her 42 years of wisdom, grace and beauty with featured artist,
JERMAINE PAUL
! It will sure to be a night everyone will be talking about for years to come!! Don't miss out!